We've put together a quick guide to ergonomics in the workplace, beginning with the individual & scaling to the organization. This blog looks at what "ergonomic" means & how best practices can be implemented by individuals to create ergonomic office standards & programs.
"Ergonomics is the study of how we interact with working environments and how these interactions can be improved so wellbeing is maximized."
(from some awesome Aussie Ergonomists)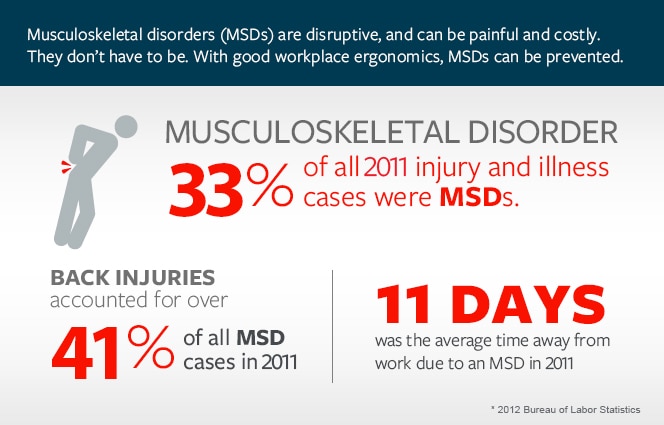 Designing for an ergonomic office is a discipline that has been adopted by businesses & promoted by health organizations worldwide, and with good reason: it's been clearly shown that implementing sustainable, ergonomic practices boosts employee well-being, productivity, morale & engagement. Healthier workers in a healthier workplace make for healthier results. If that isn't persuasive, consider the risks. Over one-third of adults in the United States are obese, the average adult spends more than half the day sitting, and musculoskeletal disorders are attributed to over one-third of lost workdays.
You have the evidence & the impetus for fostering an ergonomic office: now it's time to address the "human factors": the individual, the job & the organization.
---

Ergonomic principles in practice vary from person to person, job to job; find what works for you by identifying your individual pain points and risk factors in your daily routine such as high levels of repetition, forceful exertions & sustained awkward postures. These basic guidelines in comfort design will get you started:
---

---

Ergonomic office practices in the office have been found to improve productivity, engagement & process flow while reducing errors, turnover & non-accidental injuries. A Gallup study showed that up to 77% of workers are afflicted by chronic conditions and have an above-average BMI. Can you afford not to implement ergonomic office practices into your workplace strategy?
---
Thanks for Reading!
Do You Work In An Ergonomic Office?
We're in the business of making your workplace work as hard as you do. Wondering about what you can do to implement sustainable, ergonomic practices in your office?